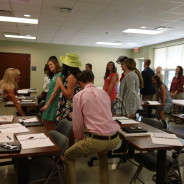 The Mustang Youth Services Center partnered with the City of Paducah Parks & Recreation by providing a college & career development workshop for the Student Government at MCHS entitled "Workforce WORTHshop:  Do You Have What It Takes?"  Students participated in this half-day, interactive workshop which provided sessions on resume writing/interviewing skills, filling out job applications, conflict resolution, creating a healthy lifestyle, setting goals and leadership.  Presenters included:  Joni Goodman, KeeFORCE; Stacey Young, Baptist Health Paducah; Robert Tashjian, UK Cooperative Extension; Amie Clark, City of Paducah; Melanie Egner-Cole, EXL7 Bootcamp; and Michael Ceglinski, MCHS.  Each student who completed the entire workshop received a "Certificate of Completion" to be used when applying for jobs, scholarships, internships and a professional development training experience of which they can include on their resumes.
Nonprofit agencies were also invited to provide information about their organizations, the services they offer to the community and how students can get involved.  Special thanks to Aida Vega (Hope Unlimited), Niki Jehnke (Merryman House) and Monique Zuber (United Way – Paducah).  Thanks to ALL of our business partners and presenters for volunteering their time to help our students!
Students participants include:  Madelyn Buckingham, Carter Bullard, Barton Christmas, Erika Crowell, Evan Dowell, Robin Ford, Jackson Gray, Joshua Grogan, Allison Housman, Elizabeth Noonan, Emily Perry, Caleigh Propes, Jordan Russell, Vincent Shiben, Olivia Sin, Caroline Smith, Kourtney Stevens, Jacob Weitlauf and Hannah White.
For more information about the Mustangs YSC contact Stacy Thomas at 538-4370 or stacy.thomas@mccracken.kyschools.us